Reliable and Responsive Managed Services in the Schaumburg area
630-435-4000
IT Services & IT Managed Services Company specializes in IT Support to small and medium businesses throughout Schaumburg, IL. Our strength is 100% reliable IT Services, cybersecurity and IT consulting.
As SMBs' daily operations are increasingly dependent on Information Technology, reliable IT support becomes necessary. At the same time, IT support is rapidly becoming more complex, ranging from cloud deployments and data analyses to front-line device and application management.
All these factors can make even experienced IT specialists quite overwhelmed. As a result, SMBs are forced to spend significant amounts of time and money trying to keep pace with technological advancement. Often, they quickly discover that no matter how much they try, they still fall behind.
But a simple and affordable solution to these hurdles is outsourced IT support provided by a Managed Services Provider (MSP). Outsourcing a skillful team of IT professionals takes the pressure off your in-house IT and lets you focus on your daily business.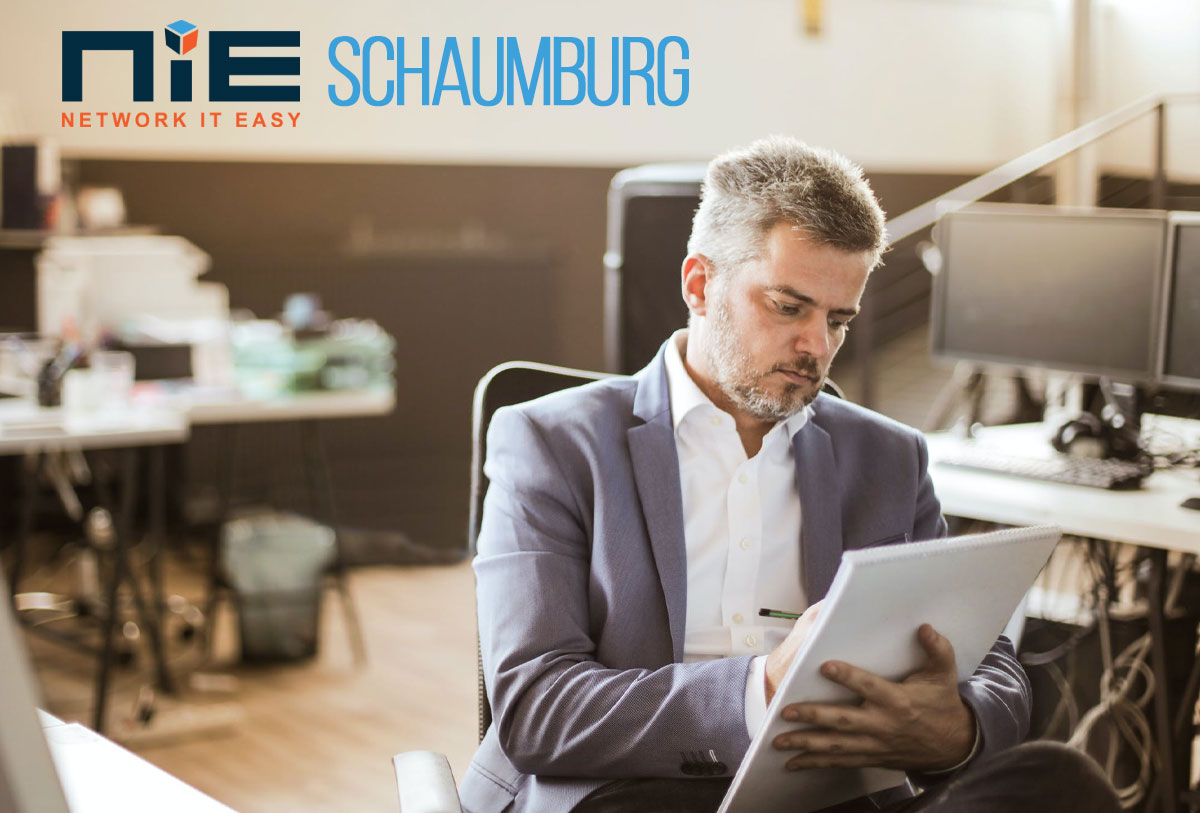 Network It Easy has a long and successful history in providing managed IT services to our clients, from public schools to non-profit organizations, from small to medium-sized businesses across various fields of expertise. Our team of professionals is capable of handling the entire IT infrastructure. We got your back from start to finish: we provide software and hardware, monitor your network on a daily basis, and last, but not least, we provide quick and efficient disaster recovery. With our support, our customers are safe and can focus on developing and improving their businesses.
When choosing the right Managed Services Provider, you should keep in mind that the quality of the services provided is a crucial factor. Lower prices might lure you only to find out that support hours are limited or response speed is poor. Also, the number of solutions (especially the ones pertaining to IT Security) varies from provider to provider. Here, at NIE, we offer high-quality locally managed IT support in Schaumburg. We understand the technical and operational challenges faced by Schaumburg businesses because we are here to help whenever and however, we can.
Schaumburg Managed IT Support Solutions
Do you need outsourced IT support managed services in Schaumburg? We got you covered! We specialize in:
Network Security — includes hardware and software solutions as well as processes and configurations relating to network use, accessibility, and overall threat protection; we defend your network and data from breaches, intrusions, and other threats;
Disaster Recovery – is a set of policies, procedures, and tools that enable the recovery or continuity of IT infrastructure following a natural or human-induced disaster. We provide a thorough risk evaluation and DR plan;
VoIP — with this service, your company can significantly lower costs and improve call quality. Users of VoIP can make calls and hold web conferences on various devices, from computers to smartphones and other mobile devices.
IT Consulting — Network IT Easy is a team of experts who will evaluate your IT needs and provide the best fitting solutions.
Why Outsource Your IT Support in Schaumburg?
At first sight, an in-house IT team might seem like a better and more affordable solution, but we assure you that by choosing local outsourced IT experts, you gain significant advantages such as:
Cost Management — we offer predictable and detailed payment plans that let you streamline your organization's IT costs.
Support Where You Need It Most — our services are always tailored to individual needs.
You need data center management? VoIP integration? Network monitoring? We got you covered!
Network IT Easy Solutions: The Schaumburg IT Support Managed Services Experts
We are more than certain that you will not regret choosing NIE as your Schaumburg IT support company. We are a team of experts devoted to our work, and we believe in supporting local businesses.
As your IT managed services provider in Schaumburg, we understand the profile of the local market; we always recognize regional challenges and deliver necessary support in no time.
See what sets us apart — visit our website or call us at 1-630-435-4000.