Are you spending too much time and effort managing your technology and it's keeping you away from doing your actual business?
As a CEO or a business owner you know that the safety and importance of your business data is crucial, and an IT expert understands the value that the data holds. With technology advancing at a rapid rate it's nearly impossible for you to be an expert on new hardware, software and products.
An IT expert, a.k.a. Managed Service Provider, has a fiduciary duty to serve you, not to sell you a product like manufacturer but to provide independent advice on the best ways to service your business. Network IT Easy is a Managed Service Provider based in Lisle, Illinois. We work with small to medium-sized businesses, addressing all their IT needs (i.e., e-mail solutions, data storage, software updates) as well as providing bundled solutions focusing on remote work, collaboration, data protection and cyber security.
Working with experienced MSP has many benefits, including easy 24/7 access to the expertise, best practices and world-class tools and technologies. Furthermore, MSPs help reduce the risk of downtime and cyber threats by delivering a highly available, more secure IT environment.
A reactive IT approach is costly, MSPs provide proactive, preventative and responsive IT along with a predictable monthly IT service budget. With NIE as your Lisle based MSP you are about to achieve greater efficiencies, effectiveness and productivity throughout your organization. We stay current on the latest IT trends, developments, skills and certifications so you don't need to. Your devoted Managed Service Provider takes care of your IT so you can take care of your business.
From Office 365 Migrations, Voice IP & IT Managed Services and beyond, Network IT Easy work with you to assess your current and future needs to help you make informed decisions that will drive your business forward.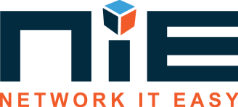 Let's talk about how we can help your business! 630-435-4000 (option 2)
We provide the technical advice and practical IT skills that our customers need to achieve their goals.
We deliver the full spectrum of services from data consultancy and system health checks to infrastructure design, configuration and optimization. We Manage IT services for clients across Lisle area (and within 60 miles radius).